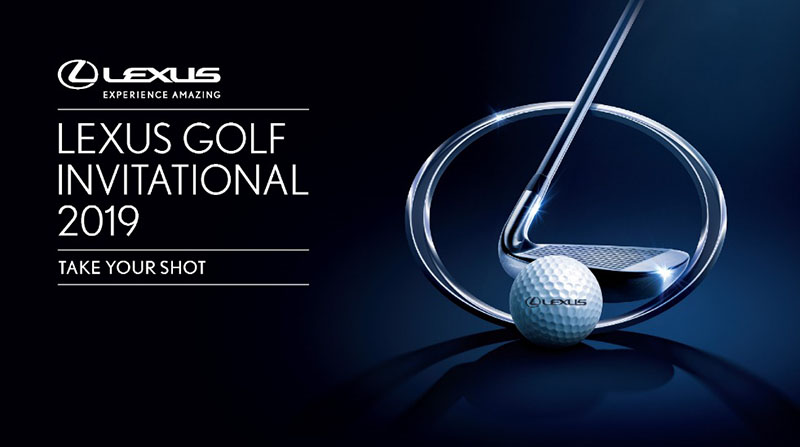 02 Aug 2019
Malaysia
LEXUS GOLF INVITATIONAL 2019
Lexus – A Class Above
Petaling Jaya 2nd, August 2018 - LEXUS is the name. Golf is the game. The two are coming together once again for the 13th edition of the LEXUS Golf Invitational Challenge 2019.
Round One is to be played on August 6 at Kota Permai Golf & Country Club, Round Two on August 14 at Tropicana Golf & Country Resort and Round Three, August 22 at TPC Kuala Lumpur.
A minimum of 80 and a maximum of 100 players are expected to vie for top honours in what is a drive to bring Lexus owners together for camaraderie and sportsmanship.
Mention LEXUS and luxurious driving pleasure leaps to mind of those discerning enough to own such a premium vehicle. It is a reputation that has been maintained through the years and perpetuated through a customer loyalty programme that has the enchanting game of golf at the centre.
Brand association with a lifestyle activity is in line with the Lexus catch phrase "Experience Amazing," aimed at customer satisfaction.
It's Stableford format, System 36, Modified, for afternoon play at all three legs, with both on and off course premium hospitality, stellar entertainment and relaxing massages awaiting the participants.
LEXUS owners from all over the country can apply via the online portal: golf.lexus.com.my, and the fee is pegged at RM360 to book a place at a chosen venue. Due to the large pool of interested golfers, participation is limited to one venue per LEXUS owner.
As befits a tournament of this stature, the winner at each venue will be rewarded with a prize money cannot buy. The lucky golfer that secures top position at each tournament will be flown Business class on ANA Airways to Japan for a trip of a lifetime that will include an exclusive visit to the birthplace of LEXUS and be given a guided tour of the plant by the experts behind the production of this premier automobile.
Winners not only get to walk away with trophies, top range golf merchandise and the satisfaction of a day of pampering on the golf course, there are also the Hole-in-one and Novelty prizes to aim for.
An all-new LEXUS ES will be driven home by any golfer lucky enough to score an Ace over the three-legs of the tournament and, for an added twist, the Nearest-to-Pin will reward one golfer in each flight.
Adding to the whole golf experience will be an opportunity to partake in a pre-tournament golf clinic conducted by Srixon professionals as well as warm-up on the range with 100 free golf balls. Golfers can also test their prowess by trying to 'Beat the Pro' on-course.
For the first time at this annual tournament, upon arrival at each venue, participants can avail of a Valet service to smoothly transition between arrival and registration.
With the same attention to detail every LEXUS owner has come to expect, the LEXUS Golf Invitational 2019 will deliver at these thrilling golf days, primed for rewarding customer loyalty.
For more information on the Lexus Golf invitational 2019, please contact any Lexus dealership in Malaysia or call the Lexus Malaysia toll-free number 1800-88-2500 (LEXUS).