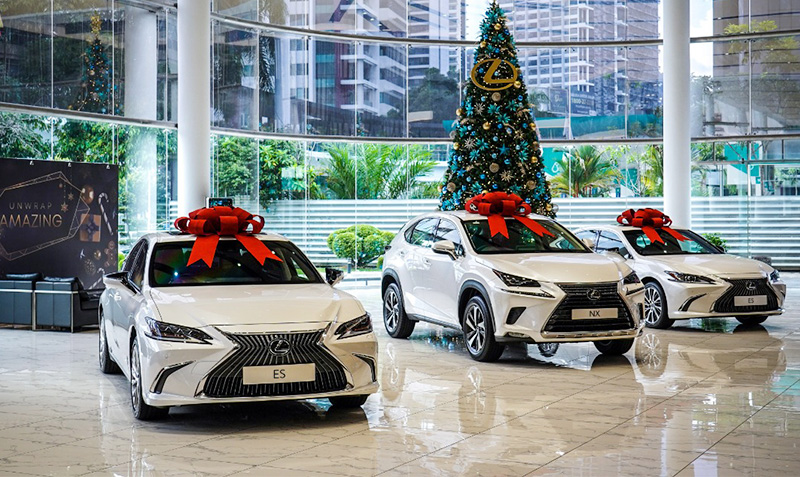 06 Dec 2019
Malaysia
UNWRAP AMAZING puts festive mood in Lexus Centres throughout Malaysia this weekend
Kuala Lumpur 5 December 2019. It's that time of the year when the festivities to celebrate the end of the year start. At Lexus showrooms throughout Malaysia, there's definitely a festive mood with 'Unwrap Amazing', an event to be held from 10am to 4pm this weekend (December 7, except Lexus Centre Ipoh which will be on December 14).
A special Christmas doorgift is presented to all visitors to the Lexus Centres this weekend and it will certainly set them in the mood to Unwrap Amazing. Within the showroom, Amazing Experiences await them with the liberal use of high-tech digital innovation and technology to elevate all the five senses, creating the unparalleled Lexus experience.
For those who want to understand why Lexus vehicles have been so highly regarded all over the world, the best way to do so will be to go for a test-drive. Whether they have a preference for a SUV, sedan or sporty coupe, there's a Lexus model available to experience. As a token of appreciation, guests will receive a gift after their test-drive.
All Lexus models have the latest Active Safety technology with the Lexus Safety System+, keeping occupants safe on all journeys. There are systems to automatically brake the car in an emergency, alert the driver when the car deviates out of its lane, maintain a safe distance from the vehicle in front and of course, airbags all around the cabin to give added protection during accidents.
At Lexus Mutiara Damansara in Petaling Jaya, Selangor, there will also be additional festive activities. Visitors can join in the Ginger House-Making workshop and enjoy special performances by Wilson Jong & Thomas Phillip Musical at various times of the day.
The renowned standards of Lexus are inspired by the Japanese tradition of omotenashi (hospitality) which every visitor to any Lexus centre will experience, right from the time he or she enters the refined environment of the showroom. Whether going for a test-drive or enjoying a cup of coffee from Café Richard, customers are always at the centre of the Lexus Amazing Experience.
While at the showroom, visitors can also find out more about Lexus Malaysia's Corporate Privilege Programme. The programme is available with the purchase of any new Lexus model, from the luxurious ES to the RX SUV that blends practicality and prestige, to the NX that pushes the boundaries of a crossover. Qualified customers can receive discounts and free service packages along with enjoying a 5-star lifestyle marked by Amazing Experiences.
The locations of Lexus Centres in Malaysia can be found at www.lexus.com.my.