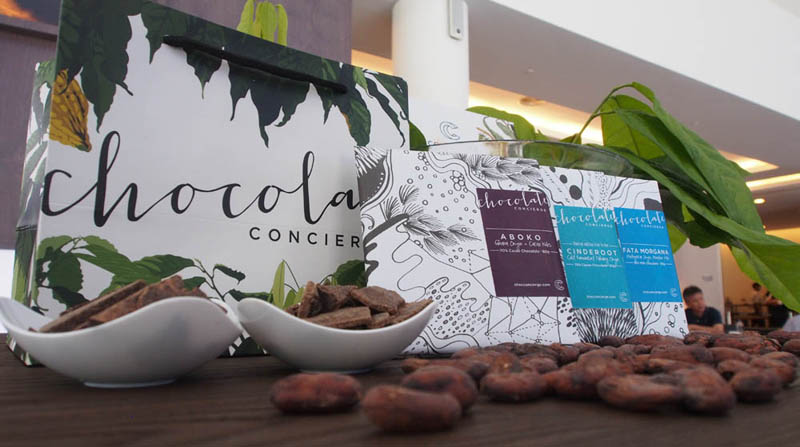 09 Apr 2018
Malaysia
Coffee Meets Chocolate: A Tale Brewing Indulgence
When coffee dreams, it dreams of chocolate
Kuala Lumpur, 9th April 2018 – Chocolate and coffee are a classic and divine combination that indulge the senses and has the ability to transform even the dampest of days. From the sweet whiff of double-shot mochas to the rich indulgence of gateau l'opera, the flavour profiles of coffee and chocolate overlap in both complementary and contrasting ways. It is no surprise then that the pairing of these ultimate compadres ignite amazing experiences time after time.
Over the weekend, Lexus Malaysia invited a privileged few to explore the fascinating world of chocolate and coffee by studying, savouring, and crafting their very own chocolate project and latte art under the expert guidance of Sydney's Latte Art Champion Tristan Michael Creswick, Malaysia's Brewer's Cup Champion Shaun Liew, and founder of the famous Chocolate Concierge, Ong Ning Geng. Dubbed as the Lexus Socie-Tea event, the sunny afternoon saw guests putting their brewing skills and dessert decorating finesse to the test as they joyfully took part in "Brew & Mix" and the "Chocolate Project".
"We at Lexus believe that heightened senses lead to the discovery of experiences and as a brand that wholeheartedly embodies the spirit of 'experience amazing', we are delighted to put together a special treat featuring coffee and chocolate, the world's favourites, to indulge our loyal customers. Coffee and chocolate each has its endless combinations of intensity, body, and flavour; and they provide us with a delicious combination of aroma and flavours that elevates the senses," said Mr Akio Takeyama, Deputy Chairman of Lexus Malaysia.
In "Brew & Mix", barista Shaun Liew enlightened guests with the ultimate brewing guide using artisan roasters coffee beans from Brazil. He demonstrated the different brewing techniques to achieve the perfect cup of coffee and taught guests of methods such as coffee cupping. Taking the crafts up a notch, Tristan Michael Creswick from coffee roasters Cloud Catcher lend his experience on latte art, the skilful art of embellishing the surface of the latte.
In the "Chocolate Project", chocolatier Ong Ning Geng from the Chocolate Concierge wooed guests, especially the ladies, with his creative chocolate art expression. From learning to savour and distinguish American, African and Asian chocolate to whipping up famous hot chocolate beverages using the finest cocoa, the 1-hour session also saw guests designing their very own bespoke box of chocolates.
"Just as Lexus is notable for its Takumi craftsmanship, today we invite guests to showcase their very own craftsmanship in a form of chocolate decorating and latte art designs, guided by our professionals. Takumi craftsmanship embodies the best of our knowledge and skills; and it is an essential component in the creation of amazing experiences. Beyond indulging the senses in coffee and chocolate delights, our guests will experience a taste of craftsmanship through the fun and creative element of desert crafting", shared Mr Ravindran K., President of Lexus Malaysia.
As no afternoon of indulgence is complete without a treat, Lexus Malaysia additionally commissioned Nathalie Gourmet to curate a special high tea menu of sweet and savoury treats, complete with tea pairing. Of the 11-course high tea, the Avocado and Pecan Tartine, the Watermelon Cube with Pistachio Pesta and Feta Cremeux, along with the Tenggiri Gravlax Way and Caper Cream Blinis were unique renditions of local and western fare that complemented the chocolate and coffee pairing.