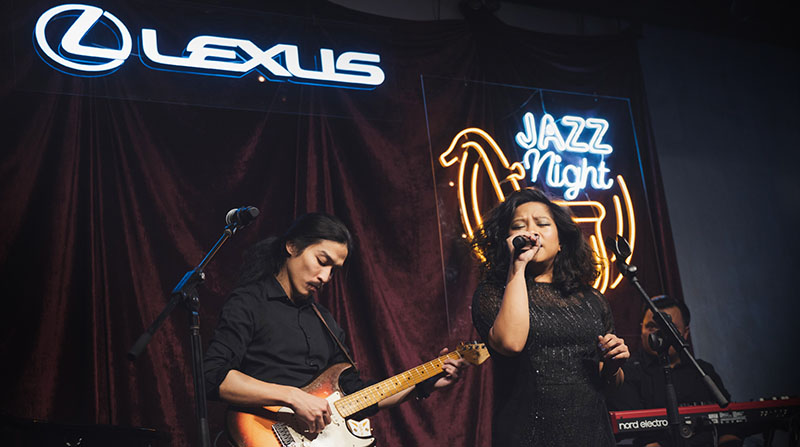 30 Apr 2019
Malaysia
Lexus Jazz Night Sets The Stage For An Exclusive And Immersive Live Music Experience
Guests revel in an immersive multi-sensory experience celebrating music and gastronomy
Kuala Lumpur, 30th April 2019 – Music has always been described as a unifying art form, one that is synonymous with diversity and innovation. Jazz music is perhaps the best example of this creative expression as it boasts a rich artistic heritage born out of cultural collaboration.
Over the years, the genre has constantly evolved with performers and collaborators who have constantly pushed the barriers of the genre through sheer talent and improvisation. With jazz, the main focus remains not on performing the music flawlessly but rather injecting creativity and imagination to allow the piece of music truly come alive.
Lexus took that principle to heart as it brought guests on an immersive, multi-sensory experience filled with great music, delectable mocktails and fine gastronomy. The Lexus Jazz Night, making its return after two years, saw the premium automotive brand put its own distinctive touch on the genre as it put on an eclectic and intimate jazz showcase exclusively for its guests.
"Jazz has always been known to be a truly inspirational form of art, one that is able to move the musicians as well as the audience. This is what we intend to deliver with Lexus Jazz Night as a form of our brand expression, which will allow us to not only enhance the Lexus ownership experience but also connect with our guests on a more personal and intimate level," explained, Mr Akio Takeyama, Deputy Chairman of Lexus Malaysia. "Jazz is synonymous in its ability to deliver an interactive, creative and highly-emotional experience. These are also representative elements of what Lexus is dedicated towards providing its customers."
With the stage set in Bobo KL, one of the capital's most renowned jazz hotspots, the Lexus Jazz Night saw Lexus owners as well as brand advocates packing the venue for this exclusive showcase. The night truly lived up to its billing of being a multi-sensory experience with fine jazz performances delivered by renowned musicians, mocktails, and a presentation of delicious and appetizing canapes.
The evening's entertainment opened with the multi-talented award-winning Zee Avi who brought her brand of music to the fore through some of her hits and covers she performed to an appreciative audience. The lass who hails from Miri best known for her lilting hit 'Bitter Heart' and the evocative 'Kantoi', had the audience tapping their feet along with her as she performed her pieces solo on guitar and ukelele.
Keeping the music flowing in the second set was Malaysia's very own nightingale Bihzhu. The Penang-born vocalist has performed all over the world, mesmerising audiences in China, India, Indonesia as well as Malaysia with her strong and sultry voice. Blessed with the ability to enchant her audience effortlessly, Bihzhu's performance at Lexus Jazz Night saw her bringing her signature harmonies and feel-good vibes to the show with her signature tunes, 'Palpitations', 'Can't help falling in love' and 'Evergreen' amongst many others.
As the great jazz numbers fulfilled the soul, the exquisite selection of mocktails and beverages together with appetizing and flavourful canapes more than satisfied the pallate. The array of mouth-watering bites included tantalising offerings such as foie gras and cranberry jam on toast, crispy prawns with honey mustard mayo and French smoked duck with fruit salad, all of which were meticulously prepared to create an opulent feast for both the eyes and the palate.
"The Lexus Jazz Night represents one aspect of the amazing experiences that Lexus has curated as part ofthe brand's lifestyle promise. A multi-sensorial experience and an exploration expression of music as well asflavour; In essence a true measure of Lexus and the lifestyle it embodies," said President of Lexus Malaysia Mr Ravindran K.