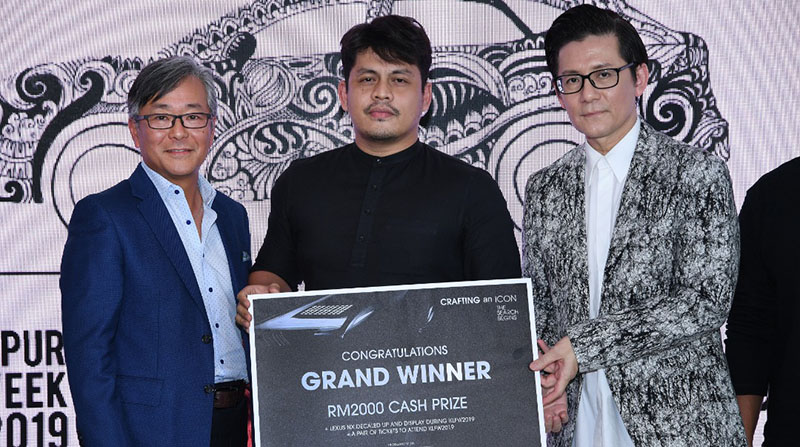 09 Aug 2019
Malaysia
LEXUS TO DAZZLE AT KL FASHION WEEK 2019
Lexus takes starring role as the official car sponsor
Kuala Lumpur 9 August 2019. While the country's top fashion models prepare to strut their stuff under the spotlights during KL Fashion Week, Lexus is ready to dazzle away off the catwalk with stunning models in their own right.
As the event's official car sponsor, Lexus will be privileged to showcase some of its distinctive designs at the venue including the imaginative Lexus NX, sleek Lexus ES and the definitive head-turner; the Lexus LC500 when the event kicks off on August 21st 2019 at the Pavillion Kuala Lumpur.
"Lexus has long shared a close identity with international fashion. The luxurious designs, attention to detail, superior craftsmanship and an appreciation for definitude are just some of the core values that both the audience at the KL Fashion Week and Lexus customers can closely identify with," said Mr. Akio Takeyama, Deputy Chairman of Lexus Malaysia at the launch of the KLFW here today.
As a leading luxury brand that is closely aligned with cutting-edge design and superior craftsmanship, Lexus is keenly aware that innovative and captivating designs play a key role in engaging the soul.
As part of the brand's efforts to further the love of arts and in support of the Malaysian doodle art community, the Lexus NX on display at the Bukit Bintang entrance to The Pavillion will be part of an installation as it will feature a wrap of the winning Doodict design from over 80 entries of a local doodle art competition.
Lexus Malaysia has been actively celebrating doodle art as a growing art form and has been collaborating strongly with the Malaysian doodle art community as a means of embracing this diverse pool of creativity and to inspire new talent who will further this creative lifestyle.
Another insightful collaboration that will feature during this year's KLFW will be with fashion icon Alia Bastamam. Through a series of videos produced with Lexus, Alia shares her fears, her inspirations and how her story closely relates to the three pillars of the Lexus brand story; Anticipate, Innovate and Captivate.
With well over 80 local designers showcasing their talents, this year's KFLW will be one of the most anticipated ready-to-wear fashion events of the year. Keeping KLFW's guests fashionable, Lexus Malaysia will ensure its VIP guests arrive in impeccable style using the fleet of courtesy transportation vehicles that include the Lexus NX F-SPORT and the top-of-the-line Lexus LS500.
"Whether it is in a car or high fashion, the appeal of great design can never be underestimated. A wonderful piece of art, captivating blend of colours or innovative use of fabrics are all able to bring about an imaginative emotion that is capable of transporting us beyond the ordinary," said President of Lexus Malaysia Mr Ravindran K.