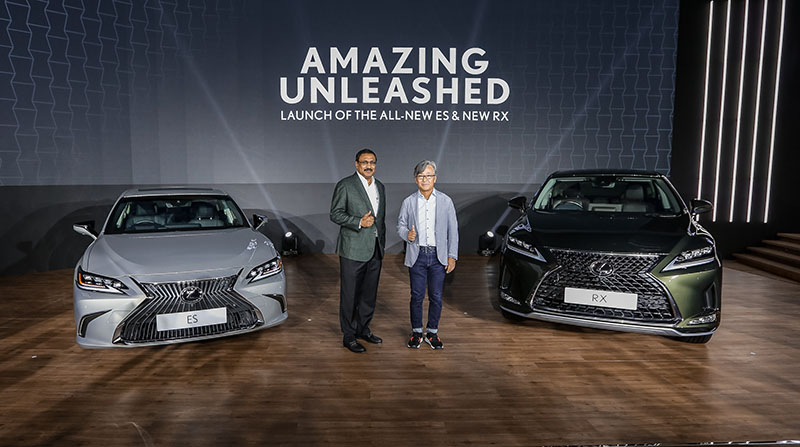 10 Sep 2019
Malaysia
LUXURY EVOLVED: ALL-NEW LEXUS ES AND NEW LEXUS RX ARRIVE ON MALAYSIA SHORES
Updated models feature stylish new profiles and enhanced safety and comfort
Kuala Lumpur, 10 September 2019 – In typical Lexus fashion, the All-New Lexus ES and New Lexus RX made their debut today in scintillating style at an event befitting its status as a premium luxury brand.
Both models have been refreshed and updated with a number of innovative design tweaks and changes as well as improvements in both comfort and safety. With advancements on all fronts, Lexus continues its promise of delivering amazing experiences to its customers whilst fulfilling their demands and anticipating their needs for the future.
Upon revealing the evolutionary changes to both of the luxury brand's best-selling models, guests at The International Gallery in Bukit Kiara were treated to a feast of the luxurious life that included fine spirits, hand pampering sessions and fine cigar.
"By designing innovative ways to excite and change the world, Lexus remains a visionary luxury brand that anticipates the future for all," explained, Mr Akio Takeyama, Deputy Chairman of Lexus Malaysia. "Lexus has long held on to the commitment of bringing amazing experiences to our customers by transforming function into emotion, performance into passion and technology into imagination."
All-New 7th Generation Lexus ES – Emotion, Comfort, Refinement
One of the core models since the birth of Lexus in 1989, the ES has maintained its position as Lexus's most popular sedan with over 2.3 million cumulative global sales in 30 years. The 2019 model is the seventh generation of the ES and ushers in a new chapter in Lexus design – one that offers a much stronger emotional quality
Adopting the theme of Provocative Elegance, the new generation ES features a design that exudes 'smart sportiness', courtesy of a rearward sloping roofline that cuts a coupe-like silhouette. A departure from previous generations, the new design is not just sporty in appearance but also boasts more efficient aerodynamics.
Long renowned for its comfort and refinement, the All-New ES builds on its established strengths with an all-new chassis that allows for a more dynamic exterior design and even better driving performance.
Inside, the latest generation ES arrives with an array of impressive features and safety innovations that make this one of the safest and dynamic executive saloons in its class. Space is enhanced for all occupants with 1,025mm couple distance, along with improved roominess and quietness within the cabin, both of which are long-established hallmarks of the ES. Equally appealing are the power-reclining rear seats to make every journey an even more amazing one
The driver-centric cockpit is complemented by a more open and spacious layout along with new levels of craftsmanship. A lot of attention to detail has been given on the quality and finish of the cabin, which now exudes a new level of calm of peacefulness – a key element the omotenashi hospitality that is definitive of Lexus models.
In the safety department, the all-new Lexus ES arrives with the latest version of Lexus Safety System + (LSS+), which boasts an advanced package of active safety technologies making it one of the safest executive saloons in its class.
Nestled under the hood is a 2.5-litre in-line 4-cylinder petrol engine (A25A-FKS), which produces a total of 204hp at 6,600 rpm and maximum torque of 247 Nm at 5,000 rpm. Equipped with a VVT-iE (Variable Valve Timing – Intelligent by Electric Motor) and paired with new 8-speed Direct Shift Automatic Transmission featuring AI (Artificial Intelligence) Shift Control, the powerplant delivers effortless acceleration along with impressive efficiency.
The New Lexus RX- Pioneer Luxury SUV Evolves To New Heights
Unmistakable in design and presence, the Lexus RX has continuously maintained its position as one of the most popular SUVs on the market. The model not only remains a core model of the Lexus brand but also one that helped spark the luxury SUV segment when it was first introduced in 1998.
The new RX has been refreshed with a new design, features latest advanced safety technologies and improved with new multimedia touchscreen system with smartphone connectivity. On the outside, the model exudes elements of seduction as well as strength with an exterior design that retains the aggressive stance of the RX whilst emphasising its elegant lines.
Newly sculpted front and rear bumper designs help elevate the dynamic appearance of the new model. The flowing character lines are further enhanced with the addition of rocker panels that accentuate strength and stability. The addition of a new spindle grille along with slender DRL headlamps gives the front fascia a newfound sharpness. In the rear, combination lamps feature an "L" shape motif, further emphasizing the Lexus brand signature.
The driver focused cockpit is also further improved with a new multimedia touchscreen system with smartphone connectivity that includes Android Auto and Apple Carplay. Upgrades include paddle shifters, a smartphone holder on the centre console as well as dual USB ports at the front and in the rear of the vehicle. For added convenience a wireless charger in the centre console enables portable devices to be charged without a cable.
In terms of safety, the new RX is equipped with the world's first BladeScan ™ type Adaptive High Beam System (AHS), which produces a wider illumination area allows driver to maintain the headlamps on high beam mode, without dazzling oncoming or preceding vehicles, and the latest generation of Lexus Safety System +.
"Undoubtedly the arrival of the new Lexus ES and Lexus RX solidifies Lexus' promise of delivering finely crafted, imaginative, and luxurious performance-driven vehicles to today's discerning drivers with the added benefit of an encompassing safety system that make these vehicles some of the most pleasurable and secure in their segment," said President of Lexus Malaysia Mr Ravindran K.
Both the new ES and RX will no doubt add to the impressive sales figures each vehicle has notched up since their arrivals here and further solidify Lexus' position as a trusted brand name in the luxury automotive segment, even more so as both models are now covered with a 5 year warranty with unlimited mileage.