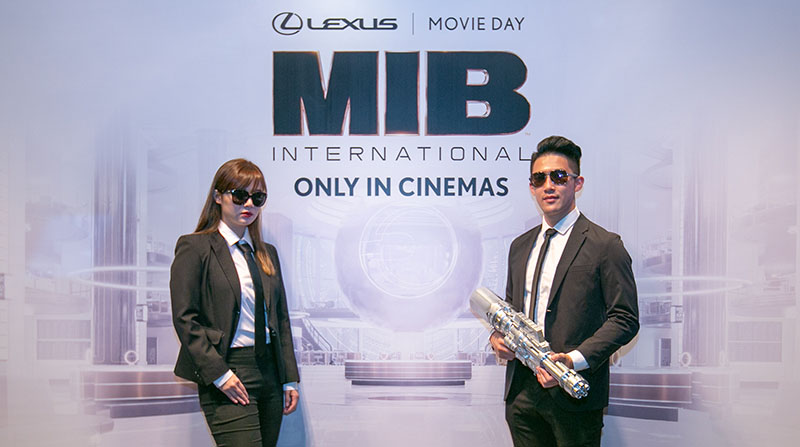 14 Jun 2019
Malaysia
The Lexus RC F stars alongside the Men In Black in MIB: International
The swiftest Lexus for the stealthiest agents in black
Kuala Lumpur, 14th June 2019 – The Men In Black are back, and now, they're flying Lexus. Rescuing planet earth from the brink of destruction is no easy feat, even for the agents of MIB. So, obviously they're going to need the best ride, equipped with all the amazing alien tech they need.
Enter the 2020 Lexus RC F: a lean, mean, alien-fighting machine. Starring in the hot new instalment of the Men In Black franchise, the luxury sports coupe aids the agents in all their high velocity pursuits. Revamped with the latest innovations and technology from Lexus, it is faster and lighter than ever before – nothing but the best for the most exclusive group of secret agents in the galaxy.
The same can be said for members of Lexus Malaysia's Loyalty Program. Lexus seeks to bring a lifestyle marked by amazing experiences, and Lexus owners are promised nothing but life's greatest luxuries. On Tuesday, one of said luxuries came in the form of an early premier to the highly-anticipated movie, 'Men in Black: International'.
"Without the support of our customers, it would be impossible to achieve all that we have today. So, in line with our Experience Amazing philosophy, we believe it is only fitting to appreciate the elite members of our Lexus Loyalty Program with an exciting lifestyle experience in true Lexus fashion," said Mr. Ravindran K, President of Lexus Malaysia.
The exclusive screening took place at GSC Pavilion mall, where a total of 150 Lexus owners and their families gathered for the movie. On top of that, exclusive MIB memorabilia were also given as take-home gifts, and to wrap-up the entire experience, an epic super-impose photo booth was set up, so everyone got to make a special appearance in the movie as well!
The stunning Lexus RC F was a sight to behold as Agent M and Agent H revs its engine during their alien hunts, but it wasn't the only Lexus starring in this MIB sequel. Viewers also caught a glimpse of the Lexus RX Hybrid as well as a fleet of LX SUVs in action. If aliens weren't plotting to take over the world, Lexus SUVs most definitely are.
In light of all the buzz, Lexus also showcased their latest innovation – the Lexus NX 300, an improvement from its 2019 predecessor. The urban luxury SUV has received some major enhancements, specifically the new Lexus Safety System+ (LSS+), the most comprehensive safety system Lexus has to offer.
Designed to support driver awareness, decision-making and vehicle operation over a wide range of speeds under various conditions, the LSS+ helps the car maintain safe distances from other vehicles on the road while simultaneously monitoring the spaces around the vehicle for potential collisions. Should there be any risk of collisions, drivers will be alerted and accidents therefore, prevented.
Ultimately, LSS+ helps address three key areas of accident protection: preventing or mitigating frontal collisions; keeping drivers within their lane; and enhancing road safety during night driving. With these new improvements, the LSS+ truly brings Lexus closer to realizing its ultimate vision: an accident-free world.
"We are thrilled to be able to collaborate with Sony Pictures on such an exciting movie, and to able be the official car of the latest MIB movie is indeed an honour. We at Lexus have been really excited to see our cars in action on-screen, and we couldn't be more delighted to share this experience together with our loyal customers," add Mr. Ravindran K.