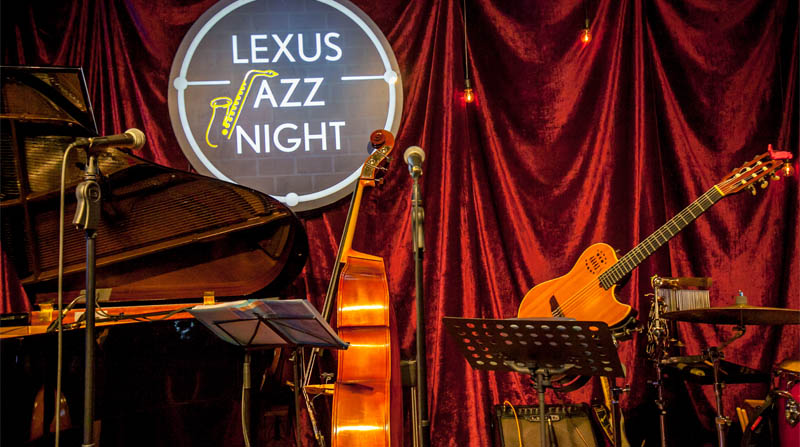 17 Nov 2017
Malaysia
Lexus Evokes the Senses with Culinary Pleasures and Live Music at the Lexus Jazz Night
Connoisseurs of luxury indulge in the complementary pleasures of whiskey and jazz
Kuala Lumpur, 17 November 2017 – Jazz music is a language that is sometimes intimate, often boisterous, but always layered with experiences and life profoundly lived. As British jazz critic and writer John Fordham succinctly captures the nature and spirit of jazz, "it is the sound of the skipped heart-beat, the caught breath, and the sudden smile."
Listening to the soulful melodies of jazz takes the listener on a journey, whether it is reliving memories in the past or dreams of embarking on new experiences in the future. As architect of drawing amazing experiences, Lexus harnesses the power of sound through the splendour of jazz to take Lexus owners on a ride of unforgettable experiences.
"Music is the soundtrack of life and it has the power to transform mere experiences into amazing ones. This is the notion behind our Lexus Jazz Night as we seek to connect with our guests on a more personal level and inspire them to explore their senses. Jazz music has evolved with time and despite the combination of different elements that has led to new approach in music; it still remains true to its genre. The evolution of jazz is a reflection of the Lexus brand that has progressed to become braver and more imaginative while upholding its core values in superior quality and Japanese hospitality. Every element of this night is an expression of the values Lexus represent and is presented in a way that invites guests to experience amazing," said Mr. Ravindran Kurusamy, President of Lexus Malaysia.
Set in one of Kuala Lumpur's best-rated jazz spots, Bobo KL, the Lexus Jazz Night saw a social gathering of Lexus owners and brand advocates where they were treated to an intimate night of fine jazz entertainment, specially crafted Lexus whiskey concoctions, and presentation of tantalizing canapes.
Opening the evening's festivities is consummate musician and producer, David Gomes of The David Gomes Trio. A Malaysian jazz pianist who has brought his swinging brand of entertainment as far as Australia, Holland, UK, and Germany, David is recognised for his smooth jazzy tunes and expert styling, garnering him a solid fan base around the region. Prior to his move back to Malaysia, this renowned performer, composer, and producer played at the Living Room, a respected jazz venue in the Grand Sheraton located in Sukhumvit, Bangkok, for two years. Setting an upbeat tone for the Lexus Jazz Night, David belted out his version of "L-O-V-E", "The Way You Look Tonight", and "My Funny Valentine".
Continuing to serenade the guests is artistic director and resident musician, Sean Ghazi, with his famous tunes, "More" and "Let's Never Stop Falling in Love". One of the household names in Malaysia's jazz scene, Sean is celebrated for his works with some of the most prominent theatre companies in Malaysia and his performance at prestigious global events, which is sometimes even graced by world leaders, attesting to his sheer musical talent and ingenious composition.
Accompanying Sean on stage is the talented songstress Ida Mariana. Influenced by some of the greatest names in music history including Ella Fitzgerald, Billie Holiday, Gladys Knight, and Prince, Ida is known for taking her audience back in time to the era of lacy kebayas and old jazzy tunes. Her pitch perfect soulful yet 'silvery silk' voice combines fun and sophistication while her charismatic personality oozes sweet classiness, capturing the hearts of many. The duo crooned to the tunes of "Quando", "Quizas", "Sway" and "Gelora" a beautiful number conceived from a recent collaboration that brings the sounds of vintage Malaysian music to a global audience.
"Music is the easiest way to penetrate the heart and soul – it takes you back in time and it aids in bringing out emotions. It is universal in a sense that it speaks to the listener regardless of the language it is sung in, and it forms that immediate connection and shapes experiences for the listener. Based on how the guests are enjoyed themselves, we believe that Lexus did achieve what they set out to do, which is to create that brand connection with their customers through experiences driven by the influential magic of music," said Sean Ghazi and Ida Mariana.
Whiskey and jazz is a pristine pairing of supremely complementary pleasures. The two go together like milk and honey, hence Lexus brought the experience up a notch by crafting special whiskey cocktails inspired by elements of Lexus' craftsmanship, design and innovation. Featuring two very distinct Lexus original cocktails, a sip of the refreshingly citrus tinge of Amazing Paradise transports the mind into the sweet thrills of a luxurious lifestyle and the spicy twist of Rustic Passion teases the imagination and exhilarates the taste buds. Lexus' craft in mixing drinks also included mocktails namely Sparkling Summer, a clever mix of lychee and ginger beer to give a fruity hint to the spicy tang, and Mint Infusion, a new take to the traditional lime and mint favourite.
The night also included a curated presentation of some of the finest whiskey; the 16-year Aberlour, 18-year Talisker and 12-year Glen Grant; and was followed by an array of tantalizing Eastern and Western styled canapes prepared by the skilful hands of Bobo KL's resident chefs. From the succulent flavours of roasted suckling lamb and French smoked duck, to the exquisite taste of foie gras pate with cranberry sauce and onion marmalade along with fresh tang of Irish oysters coupled with fish roe and lemon scented olive oil, the culinary experience indeed provoked the senses.
"Lexus really does live up to its tagline and if I can sum up the night's experience in one word, it is amazing. The musicians were great, and the specially crafted beverages and canapes were a demonstration of Lexus' detailed efforts to make this event memorable; but what I appreciated the most was the interaction among like-minded individuals. This social event was a good opportunity to connect with the brand and bond with other guests that share an appreciation for the finer things in life. Lexus did a fantastic job in hosting and indulging us – my wife and I look forward to the next Lexus event!" shared Dr Sathia Prakash, owner of the LC500.
Lexus seeks to bring a lifestyle marked by amazing experiences and the Lexus Jazz Night is a 'sensploration' of taste and sound, two receptors that is capable of taking one on a journey where the experience is remembered long after the ride is over. Living in the moment is great, but some would say that living in anticipation of an experience is even better.