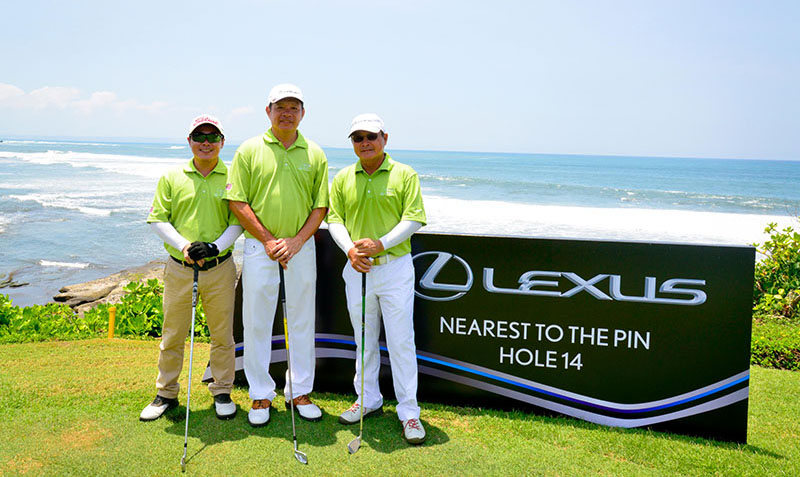 20 Nov 2015
Malaysia
Team Malaysia Wins Lexus Cup 2015
Malaysian Lexus owners swung their way to glory, beating their Asia Pacific counterparts on the green to emerge as the country champion of the Lexus Cup 2015.
Held in Nirwana Golf Course Bali, Indonesia, from 1 – 4 November 2015, Lexus customers, Mr. Ng Say Hoe, Mr. Yap Keng Yau, and Mr. Sheo Wei Meng formed the winning team in the Lexus Cup 2015, an annual regional customer golf event.
The Malaysia team participants are champions of the annual Lexus Golf Invitational 2015, from the three different regions before representing the country in the final showdown in Indonesia. The champions stayed true to their resolve, progressing from home turf to beat 62 other golfers from Taiwan, Korea, Thailand, Singapore, Indonesia, Vietnam and the Philippines, to rise up as country champion for the event.
The Lexus Cup, which first started in 2012, is hosted by Lexus' Asia Pacific Division, in partnership with its regional distributors.
Four pro golfers from the Ladies Professional Golf Association (LPGA): Beatriz Recari and Azahara Munoz from Spain, Jessica Korda from the United States, and So Yeon Ryu from South Korea, were at the event demonstrating their skills, answering golf questions, and offering up tips for anyone looking to improve their game.
The four-day event kicked off with a Practice Day and a Welcome Dinner, followed by the Tournament proper, and culminated in the highly-anticipated Gala Dinner. Winners were announced at the Gala Dinner, after welcome speeches from Matthew Callachor, General Manager, Lexus International, Japan and Paul Carroll, Vice President, Lexus Asia Pacific Division.